DECIBEL MAGAZINE METAL & BEER FEST: PHILADELPHIA 2024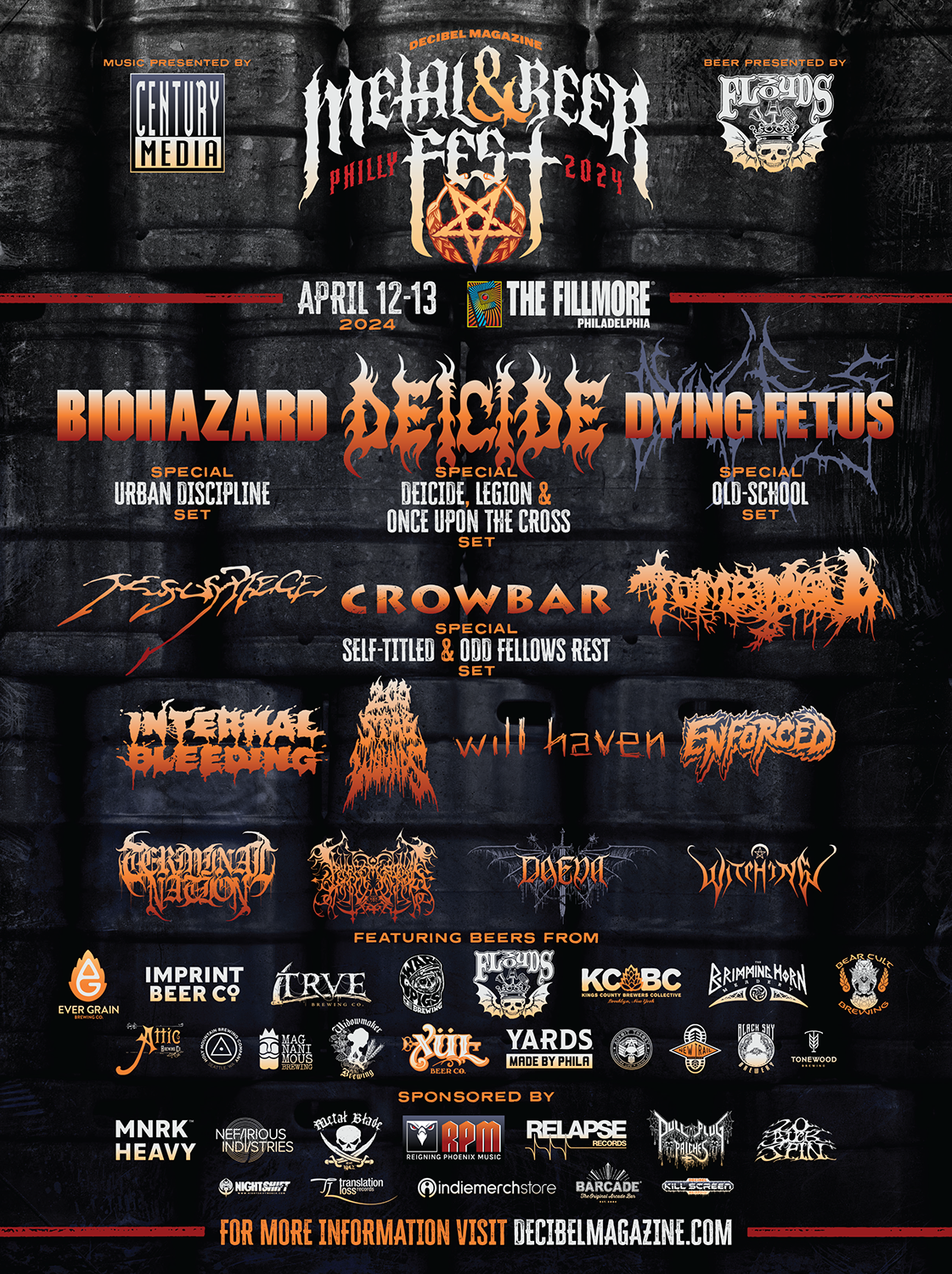 Prepare for a high-gravity dose of bourbon barrel discipline on April 12-13, 2024, when Decibel Magazine Metal & Beer Fest: Philly—the world's loudest, heaviest, two-day craft beer event—returns to the Fillmore Philly to deliver more lunatics of quad's libation for its seventh year!
The classic lineup of hardcore legends Biohazard will headline the first night with an exclusive performance of their 1992 definitive album, Urban Discipline, in its entirety, while Florida death metal forebears Deicide will close out the second evening via a special set comprised exclusively of early '90s crushers from their landmark Deicide, Legion and Once Upon the Cross records.
Our flight of special sets doesn't end there! Brutal death metal juggernauts Dying Fetus will deliver an exclusive old-school set of their early material, while Crowbar will drop a double-hammer of sludge metal classics with a set of songs exclusively from 1998's Odd Fellows Rest and their earth-shaking 1993 self-titled album.
The already stacked artist bill, presented by Century Media, is rounded out by: Philly blunt force deathcrushers Jesus Piece; spirited Toronto death proggers Tomb Mold; old-school NY slam legends Internal Bleeding; Midwest death metal cutting crew 200 Stab Wounds; Sacramento noise metal institution Will Haven; Richmond crossover thrash attack Enforced; underground black metal enigma Lamp of Murmuur; Little Rock death metal mob Terminal Nation; demented black/death dealers Daeva; and black/doom spellcasters Witching.
But that's just the (sober) half of it! The weekend's cauldron of hops is totally covered via America's most metal breweries! The year's beer lineup is once again presented by craft beer icons 3 Floyds Brewing (IN) and includes featured breweries WarPigs Brewing (IN), TRVE Brewing (CO), Kings County Brewers Collective (NY), Black Sky Brewery (CO), Yards Brewing (PA), Magnanimous Brewing (FL), Ever Grain Brewing Co (PA), XUL Beer Company (TN), Adroit Theory Brewing (VA), New Trail Brewing Co (PA), Holy Mountain Brewing Co (WA), Imprint Beer Co (PA), Widowmaker Brewing (MA), Attic Brewing Co (PA), Bear Cult Brewing (DE) and flagship meadery Brimming Horn Meadery (DE). Tonewood Brewing (NJ) will also be pouring.
"We look forward to Philly every year, but this year—holy shit—it's like [Decibel editor] Albert Mudrian read my mind for what a dream lineup looks like," says 3 Floyds' Brewmaster Chris Boggess. "It might be the best Metal & Beer Fest lineup yet. We've been dying to tell everyone we know about it and can't wait to return to Philadelphia to witness this truly siiiick event and share many beers with many maniacs once more."
Tickets for Decibel Magazine Metal & Beer Fest: Philly are on sale on Friday, Nov 17 at 10:00 am ET. But the 3 Floyds and Century Media pre-sales start today (Wednesday, Nov 15) at 12:00 pm ET! Go here and use pre-sale codes ZOMBIEDUST or CENTURYMEDIA for early access! All ticket option details can be found below.
"Just Metal" Ticket (21+)
Admittance to the day's event, but as the name suggests, you just get to see the show—no beer samples (You can still buy select beers a la carte if you're 21+).
"Metal & Beer" Ticket (21+)
Admittance to the day's event plus unlimited* sampling from our diverse lineup of international breweries presented by 3 Floyds. Decibel Magazine Metal & Beer Fest: Philly 2024 sampling cups provided. Limited to 550 tickets per day.
*Please note: In extremely extreme cases, certain high-ABV pours will be ticketed, with attendees receiving a limited number of tickets available to redeem for each offering.
Hails and ales to our partners!
Bear Cult Brewery